WE DO ONE THING WELL:
CHOCOLATE
Award winning single origin chocolate

Unearthing natural flavour,
unique to each origin

Paying 2-3x Fairtrade price for cocoa
Land was born with the aim of producing quality bean-to-bar chocolate that champions the world's finest cacao and the people that grow it. From humble beginnings, Land has won numerous awards. Still made in London's East End, it is enjoyed across the globe - from Paris to Tokyo, and of course, down the road in Bethnal Green where it all began.
2012
Phil Landers spends his time mainly in a BBC radio production office hoovering up any cheap chocolate he can get hold of and occasionally helping make great Radio. Seeking change, Phil leaves the BBC and sets out to travel in Central America.

In a cacao field in Guatemala Phil sees the truth of chocolate and realises the chocolate making game is for him.
2013
Back in London Phil leaves his life at the BBC behind and ventures into the chocolate world. He learns the ways of the chocolatier and re-educates his palette by working with renowned chocolate guru Paul.A.Young. At home Phil is into the kitchen, making use of an Indian spice grinder and a hairdryer to form his first bars by lamplight.
2015
The Mast Brothers rolled into town, offering Phil a chance to become a maker. Phil refines his craft on the job and keeps up the habit of making chocolate at home in the small hours. Another trip to Nicaragua teaches Phil about harvesting and fermentation, whilst introducing him to new cacao varieties.
2016
Phil steps out alone and finds a place in the back streets of East London – an old furniture maker's workshop in Bethnal Green. Keeping his connection with south and central America, Phil works on a range of single origin and single bean bars. He's joined by Kirsten who provides much needed business guidance and wisdom - Land Chocolate is born.
2019
By 2019 Land has built a reputation based on quality, winning a handful of awards over the years and supplying chocolate to some esteemed company including Selfridges and Michelin star restaurants.
2022
After a successful stint being based in Hackney Phil moves Land HQ back to its home in Bethnal Green. With the move came shiny new machines for Phil to play with and an increase in production as well as quality, meaning more fine chocolate for everyone.

The team has increased to four, adding chocolate assistants Klæmint and Louis who keep the Land train running smoothly. The mission remains the same since day one. Make the best quality chocolate but not at the cost of the environment, or to the supply chain.
LAND FEATURES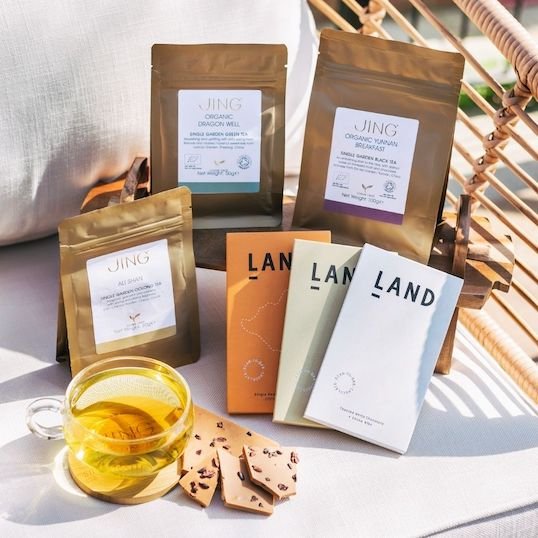 This Easter we're diving into the world of single garden Tea, with the help of London based JING tea.
Read more